Primary Medical Care for the Whole Family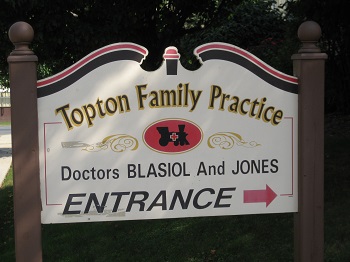 Welcome to Topton Family Practice Associates, a comprehensive primary care practice. At our state-of-the-art medical facility, every member of your family will receive the highest quality, individualized care in an environment that is compassionate, respectful and responsive to your needs. Headed by Dr. Joseph J. Blasiol and Dr. Jeffrey J. Jones, our highly skilled and friendly staff has been dedicated to providing medical care our patients in Topton, Pennsylvania for the past twenty five years.
We provide a variety of medical services such as general preventive care, treatment of acute minor illnesses and minor surgery. In addition to primary care services in the office, our family doctors are happy to care for our patients in both their private residences and when necessary, in a nursing home environment. Our doctors are on staff at St. Lukes Allentown and can refer to all medical specialists at Reading and Allentown hospitals.
At Topton Family Practice Associates, we provide comprehensive medical care that concentrates on prevention and patient education. Whether you require treatment for an injury, management of chronic health concerns or any other health issues, it is our goal to keep you healthy, informed and educated.
Some of the features of our practice include:
General preventive medical care
Minor surgery and treatment of lacerations
Diagnosis and treatment of acute minor illnesses
Chronic disease management
Referrals to all Reading and Allentown hospitals
Emergency appointments and after hours call center available
If you would like more information about any of the services that we offer or to schedule an appointment, please call us at (610) 682-7131.